Ford Laser / Meteor Workshop Manual Free PDF Download
Ford Laser / Meteor KC KE GC Model Years 1985 to 1990 Repair Manual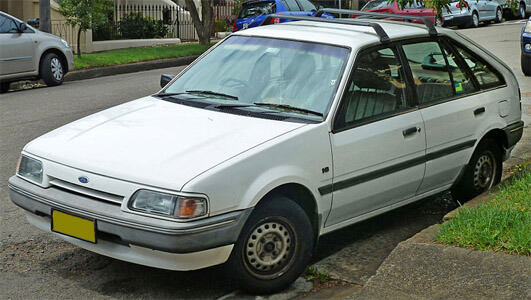 Title:
Ford Laser / Meteor 1985 to 1990 Factory Service and Workshop Manual


File Size: 47.6 MB File Type: PDF File Manual Type: Factory Service Manual

The Ford Laser and Meteor made between 1985 and 1990 shared the same body, engine, driveline and components as the Mazda 323 of the same time. As such this manual provided is for the Mazda 323, however all specifications remain the same between the Ford and Mazda variants. Topics include: General information, scheduled maintenance, engine / lubrication / cooling / fuel & emissions for the following engines: B6 EGI, B6 DOHC, EGI Turbo, engine electrical systems, clutch, transaxle (manual, automatic and manual 4WD), propellor shaft (driveshaft), front and rear axle, steering system, wheels and tyres, suspension, body, body electrical systems, technical data, special tools, wiring diagrams.






Workshop manuals / repair manuals are suitable for the below vehicles:

1985 Ford Laser / Meteor
1986 Ford Laser / Meteor
1987 Ford Laser / Meteor
1988 Ford Laser / Meteor
1989 Ford Laser / Meteor
1990 Ford Laser / Meteor