Mazda Tribute Workshop Manual Free PDF Download
Mazda Tribute GF Model Years 2001 to 2007 Repair Manual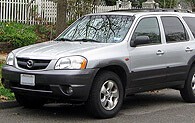 Title:
Mazda Tribute GF Chassis Factory Workshop Manual


File Size: 91.5 MB File Type: PDF File Manual Type: Factory Service Manual

Factory Service Manual / Workshop manual for the 2001 to 2007 model year Mazda Tribute. Covers all aspects of vehicle service, repair, maintenance and overhaul procedures. Includes wiring diagrams.







Workshop manuals / repair manuals are suitable for the below vehicles:

2001 Mazda Tribute
2002 Mazda Tribute
2003 Mazda Tribute
2004 Mazda Tribute
2005 Mazda Tribute
2006 Mazda Tribute
2007 Mazda Tribute