Mitsubishi Mirage Colt Workshop Manual Free PDF Download
Mitsubishi Mirage Colt 5th Generation Model Years 1995 to 2003 Repair Manual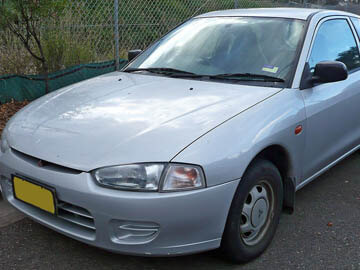 Title:
Mitsubishi Mirage Colt 1995 to 2003 Factory Workshop Manual


File Size: 79 MB File Type: PDF File Manual Type: Factory Service Manual

Factory workshop manual for the 1995 to 2003 Mitsubishi Mirage / Colt. Factory service / repair manual covering all aspects of vehicle repair, rebuild and maintenance, for engine, gearbox, suspension, brakes, electrical system, body panels and interior components, along with troubleshooting and diagnostics advice. A complete repair manual for all 5th generation Mitsubishi Mirage / Colt owners.







Workshop manuals / repair manuals are suitable for the below vehicles:

1995 Mitsubishi Mirage Colt
1996 Mitsubishi Mirage Colt
1997 Mitsubishi Mirage Colt
1998 Mitsubishi Mirage Colt
1999 Mitsubishi Mirage Colt
2000 Mitsubishi Mirage Colt
2001 Mitsubishi Mirage Colt
2002 Mitsubishi Mirage Colt
2003 Mitsubishi Mirage Colt